School Management Software
School erp empowers with a dynamic web-portal with individual dashboards for Students, Parents and Staff enabling them to have all the relevant information in a single place.
School ERP-Cloud Based
School ERP is completely Cloud based system and you don't need to set up any server at your premises. The complete solution is accessible from anywhere.
Mobile Application
Access one of the fastest growing School erp solution on Android devices and keep all your resources at your fingertips
School ERP Software
School ERP is all in one web based school management software which is designed to facilitate paperless/effortless administrations of schools/colleges. It has an enhanced facilities that automates the education sector and helps in improving operational effectiveness and bringing down administrative costs.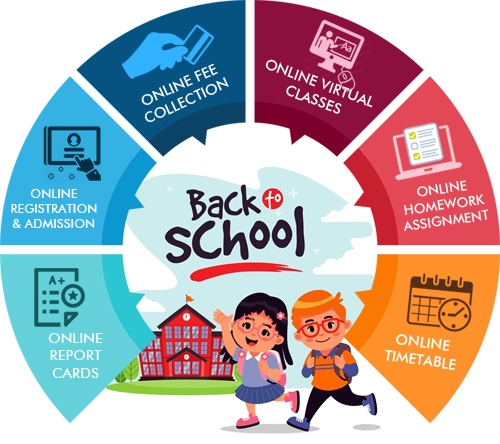 User Friendly Interface
School ERP is created with users in mind. Anyone with basic knowledge in computers and email can start using application within ten minutes of theirfirst login.
Web Based
Being a complete web based enterprise software you don't have to install anything onyour computer. Use School ERP from your browser.
Parent and Student Login
Both parent and student have their individual login access to School ERP which allows them toget access to their dashboard from any part of the world. Parents from their home cancheck what is the in time and out time of their students.
Separate Management and Teachers Portal
Teachers can give Remarks to students and parents can also receive remarks given by teachers inthe form of SMS instantly. This can help to remove Communication Gap between school and parents.
Optimized for Customization
We know that each and every school or college is different from each other in theirsystem and process. School ERP is engineered to be customization friendly.
Hosted on Cloud Servers
School ERP is a web based application. So there is no need ofany extra hardware or technical maintenance staff. All you need is a computer with internet connection.
Secure and Reliable
You can trust School ERP to store yourdata. School ERP satisfies all modern web security standards.
Amazing support
The School ERP team is available 24/7 to help you wheneveryou encounter a problem or have a question.
Wide range of features
School ERP has got more features than any other student information system.
Flexible Pricing
You can buy the School ERP plan that suits your specificrequirements. You can start with basic plans and can upgrade to pro plans when require.
Multiple Languages Support
School ERP is available in different languages including. we arethe first who provides parent login in 52 different languages.
Mobile Versions
Use School ERP on the go from any location using the mobile web app. It supports all smartphones and works from the browser. Nothing to install. Nothing to upgrade.