School Management Software
School ERP empowers with a dynamic web-portal with individual dashboards for Students, Parents, Staff and Management including office staff enabling them to access all the relevant information through single platform.
School ERP-Cloud Based
School ERP is completely Cloud based system and you don't need to set up any server at your premises. The complete solution is accessible from anywhere and anytime.
Mobile Application
Access one of the fastest growing School ERP Solution on Android/IOS devices at your palm.
School ERP Software - AES Powered by Candour Systems Pvt Ltd.TM
School ERP is all in one web based school management software which is designed to facilitate paperless/effortless administrations of schools/colleges. It has an enhanced facilities that automates the education sector and helps in improving operational effectiveness and bringing down administrative costs.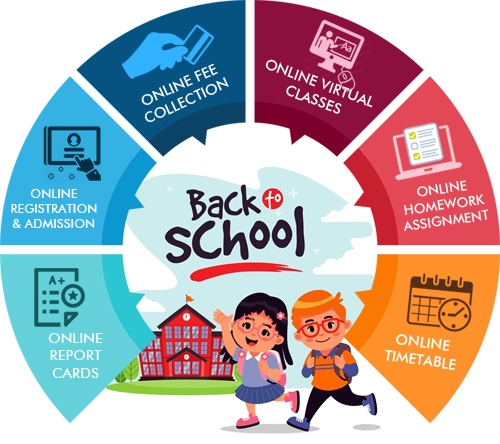 User Friendly Interface
School ERP has been developed by Candour Systems Pvt Ltd. keeping in view users in mind. Anyone can start with using application within no time of their first login.
Web Based ERP
Being a complete web based solution, no need to install anything on your computer. Use School ERP from your browser.
Parents and Students Login
Both parents and students are provided individual login access to School ERP which allow them access to their dashboard wherever and whenever - Be it fees, Homework, Assignments, Progress card, Attendance or Remidials.
Distinct Portal for the Management and the Teachers
Managerial level functionaries have access of various key data/information including student dossiers. Teachers can record any observation about student, apart from academic/attendence progress with instant SMS/Notification to the parents wherever required.
Customization
We know that each and every school or college is different from each other in their system and processes. School ERP is, therefore, engineered to customise such individual needs.
Hosted on Cloud
School ERP is a web based application on cloud. Hence no extra cost on hardware or technical maintenance staff. All you need is a computer with internet connection.
Secure and Reliable
School ERP powered by us follows latest web security standards, therefore, it is safe to store any data.
Amazing Support
Our dedicated School ERP team of Candour Systems Pvt Ltd. is available to assist at campus and off-campus as per need, if such an occassion arises.
Wide range of features
School ERP through "AES" powered by Candour Systems Pvt Ltd. covers A to Z requirments of a School/Educational Institution - our competitive edge.
Offers more than 40 Integrated Modules
Generates thousands of reports required by various levels in the school - Clerical to Manager, Teachers to Principal, Students and Parents.
Can be configured at school premises on your server, if so desired.
Reduces cost of the user school in terms of Manpower and Manhours.
Reduces stress levels – Be it teachers or office staff.
Enables fast decision through online key data/information.
Enhances reputation of the School.
It is thus an investment to implement School ERP "AES" powered by Candour Systems Pvt Ltd..
Mobile App
School ERP "AES" powered by Candour Systems Pvt Ltd. is live on Mobile App- ease of access from wherever and whenever.